Seats
We at Soulscooter takes seating seriously. Speed, looks, style, comfort and quality are our objectives when designing our seats.
They are designed, or co-designed by us and built by masters of motorcycle seat, some of them with pressed seat bases and some of them with handmade seat bases. Depending on objected quantity.
Surely the fastest seats around for your classical scooter, and they look good too!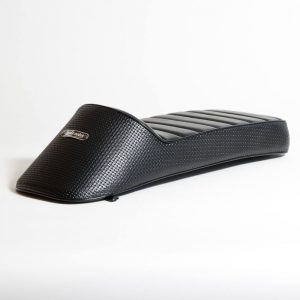 Frank Wilson Seat
If Northern Soul would be a Lambretta seat, this super fast seat would be it!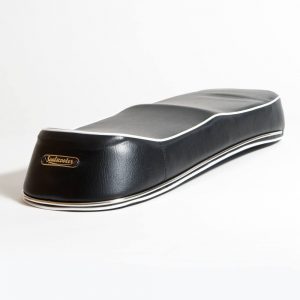 Hip Taiwan Lambretta Seat
Designed for a sportier 60's look with it's sleek low, yet comfortable profile.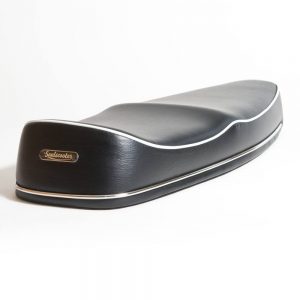 Hip Taiwan Seat
In Taiwan Piaggio started to produce Vespas in 1964 and all the cool models where made on the beautiful island.
Taipei in the 1960's was very hip, and if you where ultra hip you had to have an Italian scooter, Vespa was the choice of the hip girls and guys.
The Vespas where made with a specially designed seat to fit the Taiwanese market, more cool, racing and hip than the big black block in the Italian market.
We have searched and found some original seats that we have re-produced with original colours and shape but with better modern materials.
Jet Set Seat
Picture yourself atTaipei in the 1960's and if you where hip and in the in-crowd (for most people a dream) you had to own a slim style Lambretta! Mr Chen who had is shop in the Jet Set area of Taipei was the top Lambretta seller during that era designed and had made a extremely cool seat for his customers, we had the opportunity to with his blessing remake this seat with modern materials and a design true to the original
Accessories
We re-make and improve classics. Usually hard to find Swedish accessories from our own collections.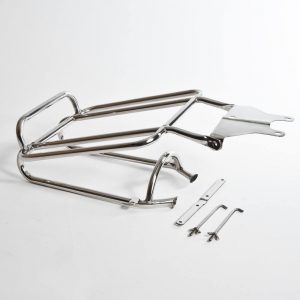 Swedish rack
This Swedish Rack came out in the beginning of the sixties and we love it as it is as versatile as it is stylish. Push in your sleeping bag below, a case of beer above and you are ready for any scooter run around the world!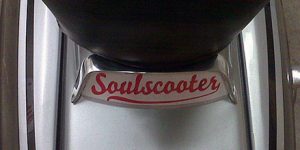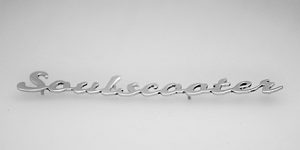 Frame badges
Soul and scooter is what we love, show it in this stylish matter on your series three Lambretta or on your Vespa.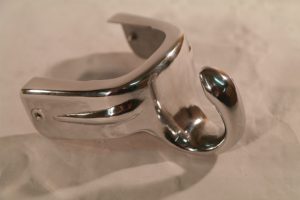 The Cobra Hook
Surely a must for your briefcase or six pack (beer that is) on your Vespa, a true sixties accessory from Sweden that any Vespa had here, back in the days.
Exhausts
Our exhausts are developed through the years, with drivability and reliability in focus. And not to mention, performance and coolness. They are all designed to work best in low to mid range, with a wide power band, and not too peaky.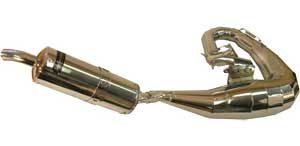 Soul Pipe
The Soulpipe RB exhaust is a mid-high revving expansion chamber racing exhaust with the grooviest look and the best performance!
The exhaust is specially engineered to fit RB.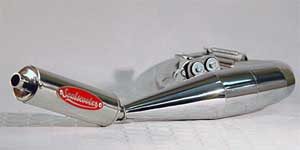 The Soulniter exhaust
The Soulniter exhaust is a mid-range revving expansion chamber exhaust with a classic racing look.
The exhaust is designed for standard to stage 4/mugello cylinders.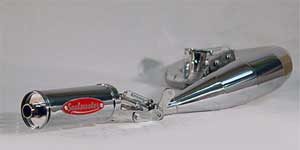 The Soulsaxophone exhaust
The Soulsaxophone exhaust is a mid-high reving expansion chamber racing exhaust with a cool look and a wicked sound.
The exhaust is designed to fit a large range of cylinder setups from standard cylinder up to TS1.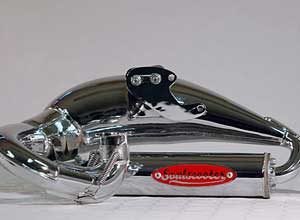 The Soulsnake Exhaust
The Soulsnake exhaust is a high reving expansion chamber racing exhaust that fits under the engine and under the floor boards for that classic look.
The exhaust is designed for TS1 and stage 4 and also works good on a ported Mugello.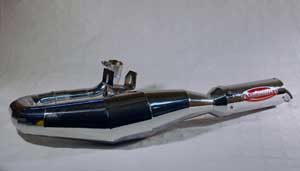 The Soultrumpet exhaust
The Soultrumpet exhaust is a mid to high-range revving expansion chamber exhaust for Vespas.
The exhaust is designed for standard cylinders up to highly tuned and is very driveable as well as it gives a good kick and great sound and looks.